Successfully Recover Windows Hard Disk Data In Few Clicks
Computers are now days used for everything. However, the motive of its usage can be negative or positive! Every activity done on computers get recorded on hard disk drive and this is the reason why Tool to Recover Windows Hard Disk Data is a solution that every forensic expert has in his toolkit.
It has been well said that every criminal leaves a trace that will help in evidence recovery. When data is being deleted or formatted from a system, still there is probability that it can be restored. This is because typically the data do not get deleted, its details about its location in the system are lost and this is the reason why users can't fetch it. A Windows data recovery program helps to retrieve the deleted or formatted information from the HDD.
What Happens When the Data is Deleted or Formatted?

Before we move on to the process for hard drive data recovery, let us have a quick view at what is the scope of data restore when it is permanently deleted or formatted.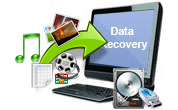 The data on hard drive is basically managed by the file system that creates an information table where entire details of "Exact Location" of data are stored. When you open any data on the system, the Operating System takes the details from the table to access the required file or folder. When you delete data from the system, basically the physical location of data remain unaffected which gives a positive possibility to Recover Data From Windows Hard Disk
The formatting process that most of the users adopt sets an empty file system. Generally, the data from hard drive is not emptied in this procedure but the data on HDD is re-organized and the table storing details of the data location is again set. Therefore, with qualitative Windows data recovery software, it is possible to get back deleted or formatted data from the hard disk drive.
Tried and Proven Perfect Hard Disk Recovery Software
Aiming at complete data restore from hard drive, our tool to recover Windows hard disk data helps to acquire critical data from HDD smoothly. The software specializes in retrieval of deleted or formatted data, helps in Windows file recovery, retrieves data from corrupt files etc with originality of data maintained. Extremely simple to operate, the solution illustrates even a novice as well as a technical user as how to recover Windows hard drive data in simple steps and with minimum time utilization.